NCR PICK LINE AS REPLACEMENT PARTS FOR ATM MAINTENANCE
SELECT THE ATM SPARE PART FOR YOUR REQUIREMENT AND CONTACT emc@electromag.com or CALL +001 619 470 2650
Electro Magnetic Components (EMC) is an ATM parts manufacturer that offers US manufactured NCR pick lines, NCR card reader rollers, NCR card reader belts and other selected ATM parts. Shown below are pictures and part numbers for NCR pick lines used for NCR ATM maintenance. There are two options for NCR pick lines. One has a Norgren Stainless Steel elbow and the other has a Norgren PBT elbow depending on your particular preference. Both are sold under the NCR 445-0592112 part number with a reference to the type elbow preferred. These ATM replacement parts are high quality US manufactured ATM parts using 100% US materials and labor. They are always in stock and can be shipped the same day we receive your order.
Magnetic Card Reader Heads
ATM Heads
Magnetic Heads for POS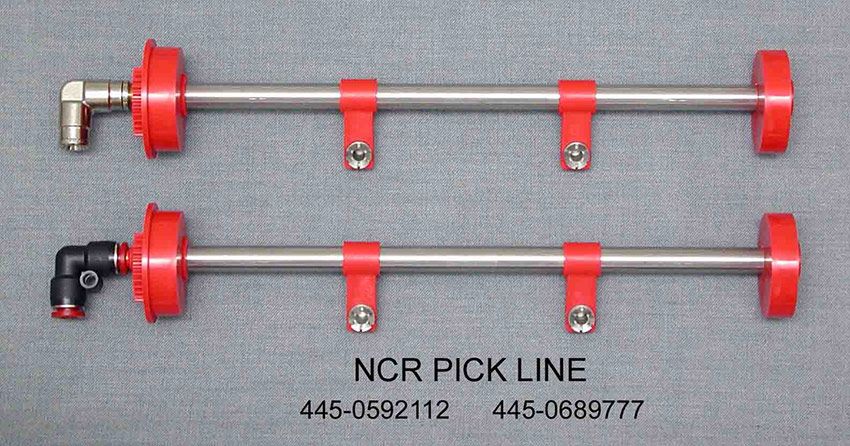 Please visit www.atmheads.com for an overview of all the magnetic heads EMC offers for Diebold, NCR, Wincor, Fujitsu, Tranax, Nautilus Hyosung, Hantel, Triton, and Tidel ATM maintenance.
If you have a requirement for LoCo or HiCo magnetic card reader heads used in point of sale (POS), swipe reader, dip reader, insert reader, encoder or other magnetic head applications please visit www.magneticheads.com or www.electromag.com and select the magnetic head for your needs.