ATM SPARE PARTS - NCR AND DIEBOLD PRE READ HEADS WITH THE GUIDE PLATE
SELECT THE ATM REPLACEMENT PART FOR YOUR REQUIREMENT AND CONTACT emc@electromag.com or CALL +001 619 470 2650
Electro Magnetic Components offers pre read or pre sense heads complete with the guide plate for NCR and Diebold motorized card readers. This assembly is the replacement part for four ATM part numbers eliminating the need to inventory multiple ATM spare parts. It is the ATM replacement part for Diebold 19-040621-000-A, Diebold 19-040622-000-A, NCR 998-023-5654 & NCR 998-023-5654. These parts are RoHS compliant and has been in the field since 2003 with no field performance issues.
Magnetic Card Reader Heads
ATM Heads
Magnetic Heads for POS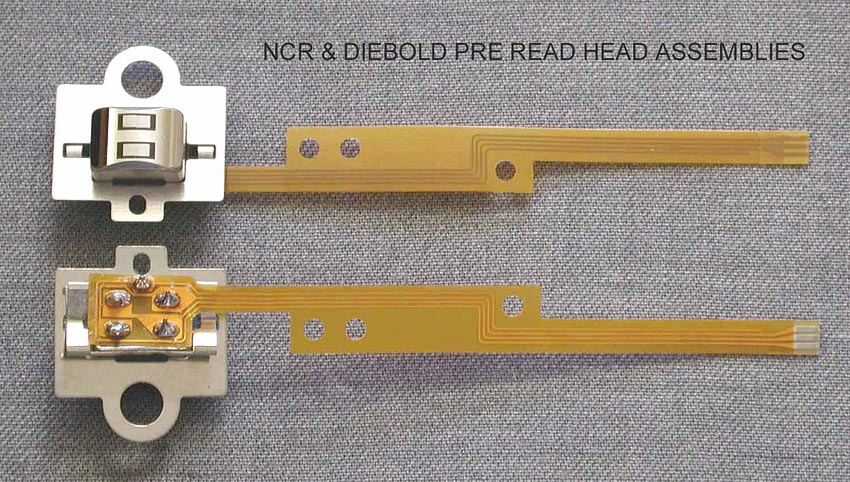 EMC is focused on being your high quality, price/performance supplier specializing in high quality ATM card reader heads for Diebold, NCR, Wincor, Fujitsu, Tranax, Nautilus Hyosung, Hantle, Triton, Tidel and other ATM machines. These ATM replacement parts are always in stock and can be shipped the same day we receive your order.
If you have a requirement for LoCo or HiCo magnetic card reader heads used in point of sale (POS), swipe reader, dip reader, encoder or other magnetic head applications please visit www.magneticheads.com or www.electromag.com and select the magnetic head for your needs.